Dancing is a fun method for kids to challenge their bodies as music and dance stimulate the brain and release endorphins: a chemical that promotes happy energy! Now you know what the Disney junior dance party is about.
Walt Disney World gives an opportunity for you, your children, and your friends to enjoy, laugh, party, and experience an endorphin rush at Disney play and dance stage. The Disney junior dance party is a fun-filled party that offers an excellent opportunity for kids to have fun while they dance with some of their favorite Disney Junior characters.
Basically, it is an interactive concert with fun music from Disney Junior live show, hosted by Finn Fiesta and a DJ named Deejay at Walt Disney World. They involve the guests in all the fun and silly dances, including high-energy live appearances from some of your favorite characters.
Where Is Disney Junior Play And Dance Located?
The Disney Junior Dance Party is in full force at Hollywood Studios in Walt Disney World. The dance floor attraction is located in Animation Courtyard near Star Wars Launch Bay at Disney.
However, the show takes place in an air-conditioned theater room where little ones can dance, sing songs, catch bubbles, and enjoy the performance from an open carpet sitting. A few chairs are in the back, but most of the seating is on the carpeted floor during show times.
Who Can Join The Disney Junior Dance Party?
Anyone who enjoys Doc McStuffins, Vampirina, The Lion Guard, or Mickey and the Roadster Racers can join the dance party and enjoy the floor at Disney junior dance party at Hollywood studios in Walt Disney World.
If your children watch any of these well-known Disney Junior animated series, they will definitely adore Disney's Hollywood Studios' music and dance celebration.
It is primarily oriented toward preschool children. But there is no specific age and height requirement to join the Disney junior dance party. Young school children can also visit other attractions with their adult companions and have an equal amount of fun.
The attraction also provides accessibility to handicapped guests. They may also enjoy the music, singing, bubbles, and Disney Junior characters and remain seated in a wheelchair or ECV.
How Do You Approach Disney Junior Dance Party In Animation Courtyard?
As soon as you reach the animation courtyard at Dsiney's Hollywood Studios, a cast member will show you the Disney junior dance party zone. They will tell everyone to settle down. Adults will be allowed to sit on a few benches placed at the back of the room. But if there is a crowd, most of the people will have to sit on the floor.
The dance party is then hosted by DJ Deejay. He guides the kids through various dances throughout their show times at Disney junior dance party.
How Long Does The Disney Junior Dance Party Last?
Disney Junior Play & Dance is located in Animation Courtyard, right next to Star Wars Launch Bay.
Fun fact: This spot used to be the "Soundstage Restaurant," a cafeteria-style restaurant that was operating from the park's inauguration day at Disney.
Hosted by Finn Fiesta and DJ Deejay, the dance party is conducted several times per day. And it can last for approximately 25 minutes, with the queue opening 10 minutes before each performance.
However, most of the time, if you arrive 15-20 minutes early, you can typically get into the performance and get a seat near the stage. It also depends upon if you are utilizing Genie+ because most of the time is utilized in the standby line. So, using Genie+ can save time for you.
In addition, the Disney junior dance party closes earlier in the day than most of the attractions at Disney World. As it is one of the must-go attractions if you have kids, you should try to get there as soon as you can. For show times, consult your My Disney Experience app or Times Guide.
Can I Have Lightning Lane Access For Disney Junior Dance Party?
Yes, you can access the lightning lane for the Disney junior dance party at Walt Disney World. This attraction provides the lightning lane with the purchase of Genie+ using my Disney experience app. It lets you save time rather than standing in a long queue.
All About Your Favorite Disney Junior Characters
The Disney junior dance party lets you meet your favorite Disney Junior characters at the animation courtyard at Hollywood studios. Currently, you can meet Timon, Doc Mcstuffins, Fancy nancy, Vampirina, Pluto, and Mickey mouse for a fun-filled musical celebration.
Let's have a look at all characters in detail.
Vampirina
The first Disney Junior character to emerge is Vampirina. Everyone's favorite vampire girl shows the crowd a special dance move that is exclusively hers.
Doc McStuffins
Then join Doc McStuffins! She shows you dance moves that are mostly influenced by fitness. She even can fix your dance fever in a joyful and feel-good musical number.
Timon From The Lion Guard
The enduringly famous Lion Guard cartoon makes a cameo as the Disney junior dance party draws to a close. Those who have watched the lion guard cartoon must be familiar with Timon. He displays his finest moves, such as the Hula dancing he picked up while living in the Pridelands.
Mickey Mouse
The time is almost up! But you can always rely on Mickey Mous when you're at Disney. Mickey Mouse, a special visitor from Mickey and the Roadster Racers, comes in from Hot Dog Hills to join the fun-filled party.
It is highly recommended that you see Disney junior dance if you're a huge admirer of the Big Cheese, just so you can see Mickey in his Roadster Racers outfit.
Dining/Refreshments at Disney Hollywood Studios
Children are highly unpredictable when it comes to food. But you can leverage your visit to Walt Disney World. It is like killing two birds with one stone!
If your child is a fan of Disney Junior, you should consider having breakfast at Disney's Hollywood studios. There is a high chance that characters from popular TV shows, including Fancy Nancy, Racer Goofy, Vampirina, etc., make appearances during breakfast.
In addition, near Disney Junior Dance Party, visitors can enjoy a table service lunch or supper dining in a traditional Hollywood setting at The Hollywood Brown Derby.
Interesting Facts About Disney Junior Play And Dance
If your touring plans include visiting the Disney junior play and dance at Hollywood studios in the near future, you must know these interesting facts in order to have a more delightful experience.
The Disney Junior characters are not presently meeting guests in their usual spots outside the dance party theater, but visitors are still welcome to enter and exit the themed areas for unique photo opportunities. Don't miss this chance!

As the show times come to an end, all characters make a comeback on stage together and show their unique moves to the audience. DJ makes an announcement to alert the parents to get ready to take pictures. Stay alert!

Also, remember that your children can see their favorite Disney junior figures in the Disney Junior Stars Motorcade at Hollywood studios. If you are fortunate, the motorcade might pass through the park as you leave the Disney Junior Play & Dance theatre. What joy!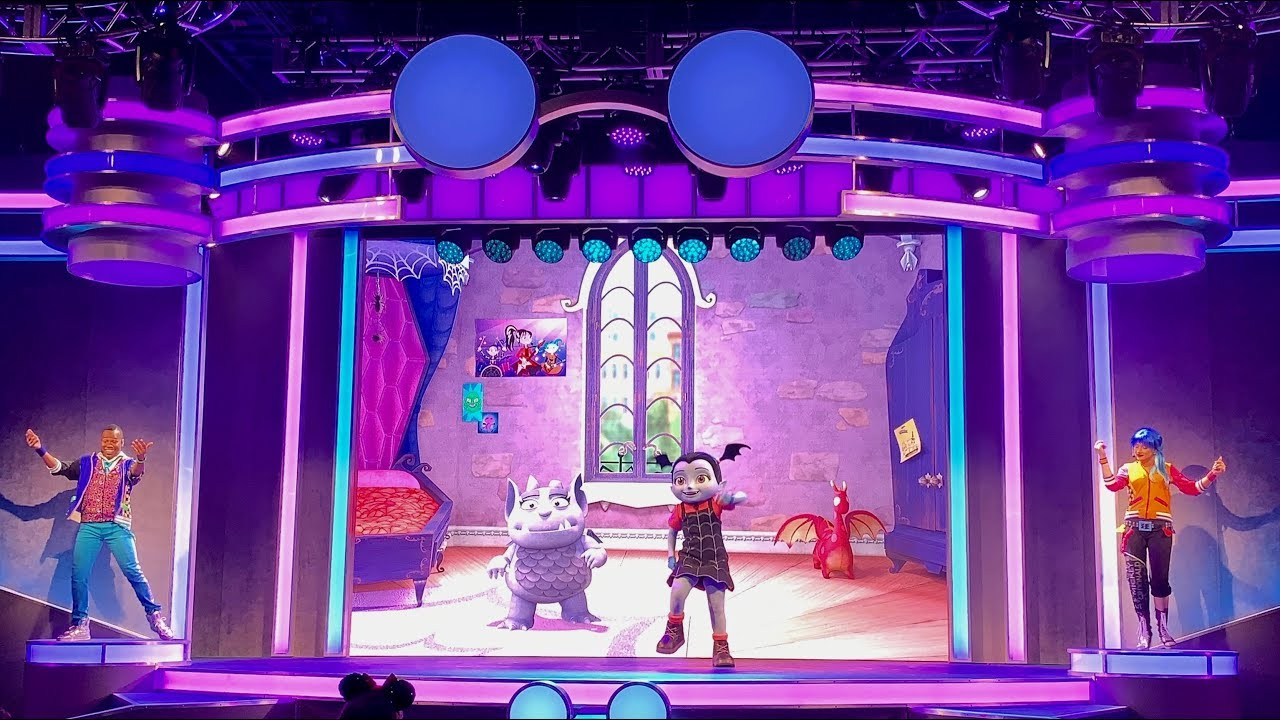 Conclusion
Hence, the Disney junior dance party lets your kids have their time of the year with their favorite characters. Disney junior dance party serves as a platform for all the singing, dancing, and audience participation. The two actors, a host, and a DJ rally the kids as if this were a CrossFit class for preschoolers.
At a celebration jam-packed with interactive excitement for kids of all ages on the stage, the audience sits on the floor so that kids can spontaneously erupt into motion when the mood strikes.
During the show time, Vampirina and McStuffins will make you giggle so hard that you will pass out. As they play tunes from your favorite Disney Junior TV shows, bubbles drift through the air. DJ DeeJay and Finn Fiesta will also invite you to dance along. Don't miss out on the opportunity. Have fun!